03-04-2018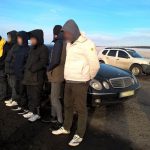 The border guards of the Sumy Detachment together with the operational staff of the State Border Guard Service and representatives of the National Police detained a group of illegal migrants and Ukrainian transporting.
During the realization of received information from the staff of SBGS about the possible smuggling of a group of illegal migrants across the border from Russia to Ukraine, the border patrol of the mobile subdivision directly on the border line in the area of the settlement Popivka, in Velikyi Pysarive district, revealed the signs of the border violation by a group of persons at the entrance to Ukraine.
Immediately organizing the searching activities, the joint inter-agency group  stopped the car "Mercedes-Benz" of Polish registration driven by the citizen of Ukraine on the outskirts of the settlement Pozhnya. There were 5 more persons of Asian appearance in the car – all citizens of Vietnam and 1 citizen of Russia.
So far, the detainees are delivered to the border subdivision for carrying out filtration measures and clarification of all circumstances on illegal crossing of the state border of Ukraine. The National police received the notification about the criminal offense under the Article 332 (illegal transportation of persons through the state border of Ukraine).
Source:https://dpsu.gov.ua/ua/news/%20VIDEO%20-Na-Sumshchini-prikordonniki-spilno-z-policeyskimi-zatrimali-5-vtnamciv-rosiyanina-ta-ukraincya/