03-04-2018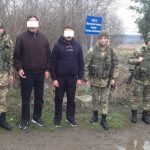 Five illegal immigrants were detained by the staff of SBGS close to the state line.
Three of them were stopped by the border guards of BD "Guta", Chop Detachment in Transcarpathia. Two men and a woman traveled to the border on Slovakia. However, near the village of Kamenytsya they were noticed by a local resident and reported to the border guards, who immediately arrested the offenders.
After the necessary procedural measures were taken the undocumented detained persons, who introduced themselves as the citizens of Vietnam, were taken to the Temporary Detention Facility of Chop Detachment. The violators will be brought to administrative responsibility for their attempt to cross illegally the state border of Ukraine.
Two more foreigners planning to get to Poland beyond the checkpoint were detained by the border guards of BD "Shehyni", Mostyskyi Detachment, in a result of information received from the the district inspector of Border Service in Lviv region. The border detail stopped the travelers 100 m before from the border line. The detained 22 and 42-year-old Turkish citizens, had documents and, as it turned out, they arrived to Ukraine in an established order. Currently the administrative protocols are drawn up as to the foreigners, the cases are sent to the court.
Source: https://dpsu.gov.ua/ua/news/Troh-vtnamciv-ta-dvoh-turkiv-zupinili-na-pidstupah-do-kordoniv-z-S/