17-04-2018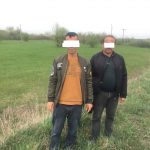 Two foreigners trying to cross the border outside the check point "Rava-Ruska" were detained by the border guards of Lviv Detachment.
The district inspector informed the border guards about appearance of two unknown persons of non-Slavic appearance moving towards the border.
In order to verify received information and look for possible offenders the reaction group started to the place and about 1 km before the border found two unknown persons with documents – Turkish citizens. In the course of the communication the men were unable to confirm the purpose of their stay on the outskirts of the settlement. Thus, they were delivered to the Border Guard Department aiming to establish the reasons of their stay in the border area.
During further verification activities it was established that the foreigners were trying to violate the state border. Currently, the violators are arrested up to three days with the aim to establish the circumstances of the offense. Their actions fall under the signs of offences provided for by the Article 204-1, Part 2 "Illegal cross or attempt of illegal cross of the state border of Ukraine".
It will be noted that the cross or attempt to cross the state border of Ukraine in any way outside the checkpoints over the state border of Ukraine without proper documents or with documents which contain false information about the person or without the permission of the relevant authorities is punishable by a fine in the range of one hundred to two hundred untaxed minimums of the citizens or administrative arrest for up to fifteen days.
Source:https://dpsu.gov.ua/ua/news/na-lvivshchini-prikordonniki-zatrimali-dvoh-turkiv-yaki-namagalis-nezakonno-potrapiti-do-polshchi/