12-05-2018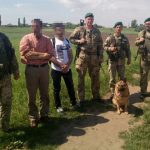 The border guards detained another "travelers" from Turkey at the border on Poland.
The attentive local residents informed about unknown persons, who were on the outskirts of the village of Shehyni. The villagers saw the strangers of non-Slavic appearance walking towards the border. Reaction group started to the place immediately and detained them 300 m before the border. The wanted citizens were from Turkey, being of 1969 and 1986 YOB. The border guards established that one of them lived in Ukraine for a while legally, and the second one came to Lviv the day before.
For attempt to cross illegally the state border of Ukraine, being committed by a group of persons, the men are brought to administrative responsibility in the form of a fine from five hundred to eight hundred untaxed minimum incomes of citizens or administrative arrest for a term of ten to fifteen days.
Source: https://dpsu.gov.ua/ua/news/mandrivniki-z-turechchini-zatrimani-u-lvivskiy-oblasti/