14-05-2018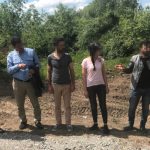 The border guards of BD "Shehyni" prevented four foreigners to enter illegally the neighboring Poland.
The local resident informed the law enforcers about the movement of unknown persons near the border. After some time, the reaction group together with the district inspector of Border Guard Service detained four citizens of Turkey. The men 1973, 1992 and 1993 YOB were documented, except the woman.
All foreigners arrived to Ukraine legally. However, having no visas, they decided to cross the border outside border crossing points.
Currently, the Turkish citizens are detained in administrative order for verification activities. The cases will be forwarded to the court.
It will be recalled that the State Border Guard Service continues the joint special border operation "Border-2018". During May the border guards of Mostyskyi Detachment has recorded the third attempt of border crossing by the citizens of Turkey.
Source:https://dpsu.gov.ua/ua/news/chetvero-nelegalnih-migrantiv-z-turechchini-zatrimano-na-kordoni-z-polshcheyu/