01-11-2018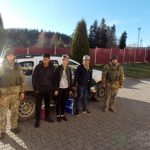 Information about possible attempt to violate the border on Slovakia was provided by the Operational Units of the Western Regional Department of the State Border Guard Service. Soon, the detail of the BU "Velykyi Bereznyi" identified the persons of Asian appearance, who were traveling towards the border. The offenders were detained 300 m before the state border nearby the village of Zabrid, Velykyi Bereznyi district. To stop illegal migrants, the officers had to get a warning shot on. The detainees, including four citizens of Afghanistan and one from Vietnam, were in the border area without any documents.
Another group of illegal migrants – two men and a woman without documents, were detained by the border guards of the BU "Syanki" guarding the part of the mountain area of the Ukrainian-Polish border. The foreigners were disclosed on the outskirts of one of the settlements. Consequently, it turned out that they were brought to the border by unidentified persons who, as if, should further facilitate their illegal travel to Western Europe.
All foreigners were detained in administrative order, the decision on the case concerning the attempt of illegal cross of the state border of Ukraine (committed by a group of persons) will be taken by the court. Currently, the measures on establishment of persons involved in the organization of transportation of illegal immigrants through border is under procedure.
Source: https://dpsu.gov.ua/ua/news/%20video%20-dvi-grupi-nelegalnih-migrantiv-zatrimali-prikordonniki-na-zahodi-ukraini/