31-10-2018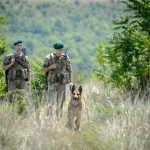 During control and check actions the detail revealed the persons of non-Slavic appearance as passengers in the car except the driver. In the course of further inspection, the border guards found out that one of the passengers was a citizen of Guinea, another –  citizen of Pakistan.
The foreigners had no documents giving the right to stay on the territory of Ukraine. They were handed over to the staff of Rakhiv District Sector of State Migration service to make further legal decision.
In addition, the district inspector of the BU "Parkhomenkove" of the Lviv Detachment, according to information provided by a local resident, detained 2 citizens of Bangladesh. The foreigners made their way to the border on Poland beyond the check points.
For the attempt to cross the state border the protocols were drawn up as to theses persons under part 2 Article 204-1 of the AICU. The verification activities continue.
Source: https://dpsu.gov.ua/ua/news/troh-aziativ-ta-afrikancya-viyavili-prikordonniki-na-zakarpatti/