23-06-2018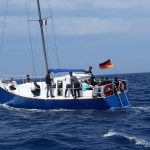 State Border Guard Service of Ukraine continues to ramp up the potential of international cooperation for more efficient counteraction to the transborder delinquency in the European continent. Detection of a group of Ukrainians in cooperation with the law enforcers of Greece and Italy, who smuggled illegal migrants, is the next case of this cooperation.
Some months ago Ukrainian border guards received information about possible use of the Ukrainian yacht with three crew members in order to transport illegal migrants. This information was passed to the EUROPOL Bureau.
Meanwhile, the law enforcers of Greece and Italy confirmed that the mentioned group had actually been engaged in illegal business. The yacht first was noticed by the law enforcers in Greece under the flag of Ukraine, and in some days it was already in Italy. And in the last case – it was under the flag of Germany and under another name. Also, it was revealed that there was a large group of illegal migrants on the yacht board, whom the crew probably picked up on the way from Greece.
Currently, the EU law enforcers conduct emergent investigation actions.
Source:https://dpsu.gov.ua/ua/news/operativniki-derzhprikordonsluzhbi-spilno-z-pravoohoroncyami-krain-s-vikrili-ukrainciv-na-perepravlenni-nelegalnih-migrantiv/