24-08-2018
Continuing action on combating the unlawful activities in th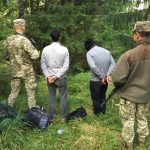 e framework of the joint special border operation "Border – 2018" and target preventive actions for the implementation of legislation in the sphere of migration "Migrant" the strengthening of the Ukrainian-Romanian border had been performed already for the fourth time during the summer period.
Two illegal migrants were detained at this direction. Border detail stopped the offenders 600 metres before the state border line. The man had no any documents and introduced as the citizens of Turkey. It should be mentioned that one of the Turkish was "familiar" to the border guards, as the man had previously been detained by the border guards of the Border Unit "Krasnoilsk" for his attempt to cross illegally the state border.
Detained illegal migrants are detained for their identification, the protocols will be drawn up on administrative violations, their fate will be decided by the court.
Source:https://dpsu.gov.ua/ua/news/na-bukovini-prikordonni-naryadi-zatrimali-kontrabandu-tyutyunu-ta-dvoh-nelegalnih-migrantiv/