08-09-2018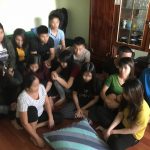 The operational staff of the Kharkiv Eastern Regional Administration of State Border Guard Service of Ukraine in cooperation with the National Police in Kharkiv region stopped another attempt to smuggle "live goods" from the Russian Federation to the EU, using the territory of our state.
So, during the special border operation performed in the private homes of the city, 30 illegal migrants were apprehended, immigrants from Vietnam, an hour before their departure to the Western border. These were mostly young people of the age 18-25, of which 17 women, who planned to reach the Western Europe.
So far, actions are performed in respect of the persons involved in illegal transportation across the state border of Ukraine.
Source:https://dpsu.gov.ua/ua/news/operativno-rozshukovimi-pidrozdilami-derzhprikordonsluzhbi-prodovzhuyutsya-sistemni-zahodi-protidii-zlochinnosti-na-kordoni/