24-10-2018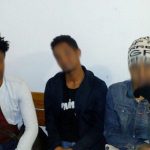 Last night the border guards of the BU "Starokozache", Belgorod-Dniester Detachment detected a group of undocumented persons at the checkpoint "Mayaky" near the Ukrainian-Moldovan border, while checking the car "Volkswagen" of Bulgarian registration.
In total,  there were four passengers in the foreign car, except the driver, – three foreigners, who introduced themselves as the citizens of Eritrea, and one Ukrainian.
According to foreigners' words, two Ukrainians picked them up at the Central bus station of Odessa and as if had to take to the bus station in Bolgrad, Odessa region. The travelers refused to explain the reason of the occurence at the border.
Currently, all circumstances of the offense commitment are under establishment. With regard to the driver, a Protocol was drawn up under article 206-1 of the Administrative Code "Illegal transportation of foreigners and stateless persons by the territory of Ukraine", and with respect to citizens of Eritrea – under Part 2 Article 204-1 of the Administrative Code "Illegal crossing or attempt to illegally cross the state border of Ukraine".
Source: https://dpsu.gov.ua/ua/news/troh-zablukavshih-inozemciv-bez-dokumentiv-zatrimano-na-kordoni-z-moldovoyu/