06-11-2018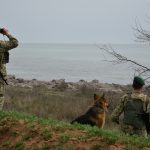 The officers of the BU "Dilove" detained two citizens of Bangladesh and their smuggler, who were hurrying up by car to get to the border on Romania. And in Lviv region the border guards of the BU "Rava-Ruska" detained a Moroccan at the time of his attempt to cross illegally the state border of Ukraine. Consequently, the foreigner admitted that he intended to get to the EU countries outside the checkpoint.
Another "seeker of a better life" was discovered by the border guards at the time of new arrivals check in from Istanbul to Lviv airport. The citizen of Namibia, going to get to our country by completely forged certificate for permanent residence in Ukraine.
In all cases, the detainees will be held accountable for their actions under the law.
In addition, eleven "market workers" from China, Uzbekistan, Vietnam, Senegal and Afghanistan were caught by the interdepartmental group consisting of the staff of State Border Guard Service of Ukraine, Security Service of Ukraine, State Migration Service and National Police within the territory of one of the Odessa markets. The violators of Ukrainian legislation will be forcibly expelled to their countries of origin.
Source: https://dpsu.gov.ua/ua/news/na-pidstupah-do-derzhrubezhu-ta-u-lvivskomu-aeroportu-i-v-odesi-zatrimano-15-nelegalnih-migrantiv/