17-08-2018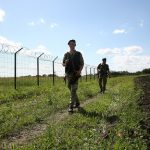 The activities are conducted to prevent violations of the law on legal status of the foreigners and persons without citizenship, to combat illegal migration and violations of the stay rules for the  foreigners on the territory of Ukraine.
Currently, a complex of practical actions, including joint patrolling, is performed in the controlled border areas and possible areas of illegal activity by the State Border Guard Service jointly with the National Police, State Migration Service of Ukraine and Security Service of Ukraine.
In a result of these actions performance the agents of the Western Regional Unit of SBGS together with the staff of the National Police of Ukraine in Lviv region detected 5 foreigners – citizens of Vietnam.
Preliminary information about that persons, who were preparing for the illegal cross the state border to EU countries in the area of responsibility of Chop Detachment was received by the operative units of the State Border Guard Service.
In the course of data working off the likely offenders were found in one of the hotels in the town of Khodoriv, Zhidachiv district. The foreigner had no any identifying documents. Currently, the law enforcers conduct investigation actions.
Source: https://dpsu.gov.ua/ua/news/pravoohoronci-zatrimali-5-vtnamciv-yaki-planuvali-potrapiti-do-s-na-lvivshchini/