24-10-2018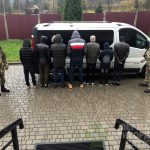 At the control post "Uzhok" on the highway "Lviv-Uzhgorod" between Lviv and Transcarpathian regions, the border guards of the BU "Syanki" stopped to check the minibus "Renault". The car was driven by the citizen of the Russian Federation born in 1992. There was also a citizen of the Republic of Moldova, born in 1985, who had documents, and seven citizens of the People's Republic of Bangladesh. The foreigners did not have any passports and documents confirming the legality of their stay in Ukraine. Accordingly, they were detained administratively in order to clarify the circumstances.
In the course of further inspection, the Bangladeshis confirmed that they intended to reach illegally the countries of the Western Europe. Therefore, their actions were defined as an administrative offense provided by the Part 2 Article 204-1 of the AICU "Illegal crossing or attempt of to cross illegally the border of Ukraine" (made by group of persons). The border guards also sent a statement to the National Police about seeing the signs of a criminal offense in the actions of Moldavian citizen under Article 332 of the Criminal Code of Ukraine "Illegal transfer of persons across the state border of Ukraine".
As for the citizen of the Russian Federation, the documents were prepared on the administrative offense under Part 3 Article 206-1 of the administrative Code "Illegal transportation of foreigners and stateless persons by the territory of Ukraine".
Source: https://dpsu.gov.ua/ua/news/prikordonniki-zatrimali-7-gromadyan-bangladesh-ih-pereviznika-ta-posobnika-/