03-09-2018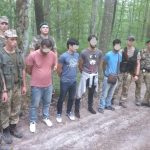 Another "seekers of better life" were detained last night by the border guards of Border Unit "Uzhhorod", Chop Detachment.
The residents of the village Onokivtsi, Uzhhorod district informed the officers about the movement of unknown persons near the state border. Three Azerbaijani and one citizen of Bangladesh intended to cross the border beyond the checkpoints to get to Slovakia. Only one of the offenders had identifying document. However, all four foreigners confessed their intention to get to the EU with the purpose of illegal migration.
Currently, the border guards find out all circumstances of the crime and establish a circle of involved persons. The foreigners will be brought to the administrative responsibility under Part 2 Article 204-1 of AICU "Illegal cross or attempt to cross illegally the state border of Ukraine".
Source: https://dpsu.gov.ua/ua/news/poblizu-uzhgoroda-prikordonniki-zatrimali-nelegaliv-z-azerbaydzhanu-ta-bangladesh/