26-08-2018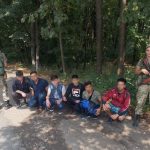 The staff of State Border Guard Service together with the law enforcement agencies conduct the events on counteraction to illegal movement by the illegal migrants across the state border.
Thus, in the framework of the joint special border operation "BORDER-2018" and the target preventive measures "Migrant", inter-agency group, consisting of operational staff of the State Border Guard Service, representatives of the National Police and the State Migration Service, on the highway "Kyiv-Chop" on the outskirts of the village Velyki Lazy in Transcarpathian  region stopped the van "OPEL ZAFIRA" of Polish registration driven by the citizen of the Russian Federation, in which he was transporting 6 undocumented persons, who introduced themselves as the citizens of Afghanistan.
The detained persons were delivered to the Border Unit "Uzhhorod" aiming to conduct filtration and verification actions. During interview the foreigners reported about their plans on getting the EU countries beyond the check points.
The RF citizen was arrested under the Art. 208 of the Crime Code of Ukraine (Detention by an authorized official) by the representatives of the National Police in the Transcarpathian region.
Source:https://dpsu.gov.ua/ua/news/na-zakarpatti-pravoohoronci-zatrimali-6-nezakonnih-migrantiv/