14-07-2018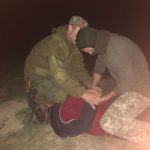 Three migrants from Vietnam were prevented to get to the EU in Transcarpathia. Information about a possible violation of the border was received by the operational staff of the Western regional department. The area was immediately deployed by the additional border guards.
Almost at midnight the soldiers detected motion of one unknown person near the border, who, noticing police, rushed to escape. During search operations the reaction group soon detained the citizen of Ukraine and 3 citizens of Vietnam. All men had no any documents. However, the Ukrainian tried to escape, but he was stopped by warning shots.
The Slovakian border guards were informed on this point as well as interacting law enforcement agencies.
The detainees are taken to the border units, where they will be identified and called to responsibility for their attempt to cross illegally the state border of Ukraine. In addition, as to the Ukrainian the National Police forwarded a statement about criminal offence under the Article 332 "Illegal trafficking of persons across the state border". The accomplices of the man are also in the process of establishment.
Source:https://dpsu.gov.ua/ua/news/na-zakarpatti-prikordonniki-zatrimali-nelegaliv-z-vtnamu-ta-ukraincya-yakiy-ih-suprovodzhuvav/