16-07-2018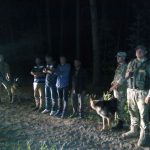 The border guards of Sumy Detachment together with the operative-searching subdivisions of the State Border Guard service of Ukraine apprehended a group of illegal migrants from the South-Eastern Asia and Ukrainians transporting them.
Processing information about possible migrants' smuggling from Russia to Ukraine in due time the border detail found the minibus «Volkswagen Transporter» of Ukrainian registration. The driver noticing the border guards ignored the legal demands to stop and fled. The pursuit began and soon it was stopped by blocking the pass.  The car was driven by the citizen of Ukraine.
During the prosecution the border guards watched haw the backpacks and clothing were thrown from the car and during the short stop a group of persons ran out of it. The search of unknown persons was performed with the assistance of the search dogs and a thermal observation device. After some time, the border guards detained four persons of Asian appearance without documents, being previously established as the citizens of Bangladesh.
Currently, the filtration actions are performed, the relevant law enforcement agencies are informed on the fact.
For willful failure to comply with lawful orders of a soldier of the State Border Guard Service of Ukraine the administrative materials according to the Article 185-10 of the Administrative Infringement Code of Ukraine were prepared with regard to the 49-year-old driver. In addition, the investigation materials about the criminal offense, were sent to the Investigation Department of National Police in Sumy region, responsibility for which is provided in the Article 332 (Illegal transportation of persons through the state border of Ukraine) of the Criminal Code of Ukraine. The appropriate records are entered into the Unified register of Pre-judicial Investigations.
Source:https://dpsu.gov.ua/ua/news/%20video%20-na-sumshchini-prikordonniki-zatrimali-grupu-nelegalnih-migrantiv-z-pivdenno-shidnoi-azii/