13-07-2018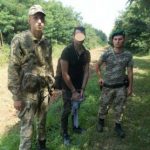 As it is reported by the border guards, the foreigner planned to cross illegal the Ukrainian-Slovakian border.
The foreigner, who tried to cross illegally the Ukrainian-Slovak border, was detained yesterday morning by the officers of the Chop Detachment.
The offender was found by the border guards of BD "Uzhhorod" during patrolling. The foreigner tried to overcome a line of engineer constructions. The man was unable to provide any documents and claimed to be Syrian. Subsequently, the officer managed to establish that he was actually a citizen of Egypt.
Upon performing necessary procedural steps the illegal migrants were taken to the border unit. After their identification, the offender will be brought to administrative liability under the Part 1 Article 204-1 AICU "Illegal cross or attempt to cross illegally the state border of Ukraine".
Source: https://ua-reporter.com/news/ubegal-iz-egipta-popalsya-v-zakarpate-na-granice-zaderzhali-immigranta-foto