21-08-2018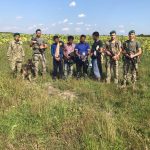 A group of illegal immigrants from South-Eastern Asia were detained in Lviv by the officers of the State Border Guard Service in the framework of the joint special border operation "Border-2018". It was managed to expose the intentions of the offenders due to the cooperation with the border guards of Poland.
The Polish colleagues with the help of technical means recorded in the night the appearance of the unknown persons near the Ukrainian-Polish border, and the border guards of the Western Regional Department immediately organized a search of the violators.
Soon the cynologists with the service dogs found the tracks of possible offenders. However, they failed to detain them immediately as the illegal immigrants were hiding among plantings of sunflower.
In order to prevent violations at the state border the officers of the operational units used the reserves of the several neighboring units of the Lviv Border Detachment.
As a result, 3 Bangladesh citizens and 1 citizen of Myanmar were revealed and detained 500 metres from the border. The foreigners reported that they intended to bypass the checkpoint to get into the EU.
The detainees were taken to the unit to clarify the circumstances of the offense and draw up administrative documents. So far, the filtration events go on.
Source: https://dpsu.gov.ua/ua/news/%20video%20-4-nelegaliv-z-bangladesh-ta-myanmi-hovalisya-sered-nasadzhen-sonyashnika/