22-07-2018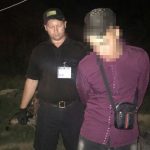 The offender was found that night in the checkpoint "Uzhhorod" by the border guards of Chop Detachment.
The man was posing as a passenger on one of the international buses to exit Ukraine. When verifying passport documents the man abruptly pushed the border guards and escaped. The man was planning to cross illegally the border and hiding behind various buildings, made his way outside the checkpoint. Later on he was arrested.
The offender had no any documents, however, called himself as a citizen of Morocco. The border guards found out that the foreigner fot into the secretly when it stopped before border control.
Also it was established that the foreigner had already been detained for the violation of the stay rules withing Ukraine and he border regime.
The citizen of Morocco was delivered to border unit to identify him, circumstances of the offense and to verify the actions. This time he will be liable for his attempt of illegal cross of the state border of Ukraine.
Source:https://dpsu.gov.ua/ua/news/marokkanec-abi-potrapiti-v-s-probravsya-v-avtobus-ta-vtikav-vid-prikordonnogo-kontrolyu/