14-08-2018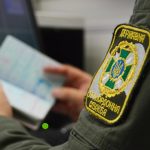 When checking in the passengers arrived from Turkey, three UK citizens came for the passport control. However, the inspector had some doubts about the authenticity of their documents. During the detailed check of the passports it was found to be forged. The foreigners in this way tried to get through Ukraine to one of EU countries. The travelers said that they paid for the fake documents about 11 thousand euro and that in fact they were the citizens of Iraq.
The offenders will be returned by a back flight. They are banned to enter the territory of Ukraine for a period of 3 years.
Besides, during verification of the documents of transit passengers, the border guards checked the documents of the citizen of Iran. He travelled to Tegeran by his valid passport document. However, some time later his plans had changed and he decided to try to get to Italy, taking advantage of the passport document of the French citizen. The foreigner did not consider the vigilance of the border guards, who immediately revealed the offense.
The foreigner will also be refunded by a back flight.
Source: https://dpsu.gov.ua/ua/news/u-borispoli-sproba-troh-irakciv-ta-irancya-vidati-sebe-za-gromadyan-inshih-krain-ne-vdalasya/