12-10-2018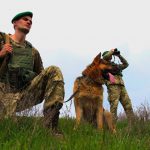 The state border service officers detained 8 illegal migrants near the state border of Ukraine.
The special alarm system went off and the military staff of the BU "Uzhhorod", Chop Detachment stopped and detained the foreigners 200 meters before the state border. According to the word of the detainees, they were the citizens of Pakistan and intended to get into the EU beyound the checkpoints.
And the border guards of the DU "Rava-Ruska" and "Ambukiv", Lviv Detachment detained four citizens of the Dominican Republic, Bangladesh and Tajikistan after receiving information from the local residents. All men were unable to show any documents to the law enforcers.
Another "seeker of a better life" from Afghanistan was detained by the servicemen of the BU "Shehyni", Mostyska Detachment. The offender had his internal passport.
All illegal migrants were taken to the border units to clarify the circumstances of their offences and the prepare administrative documents. The filtration events are continued.
Source: https://dpsu.gov.ua/ua/news/migrantiv-z-pakistanu-dominikanskoi-respubliki-bangladesh-tadzhikistanu-y-afganistanu-zatrimano-na-kordoni-/