12-09-2018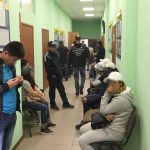 The operational staff of the Southern Regional Department of State Border Guard Service with the involvement of the Special Unit of Odessa Border Detachment, together with representatives of State Migration Service, Agency for the Prevention of Human Trafficking and State Security Service of Ukraine in Odessa region carried out activities to identify the cases of illegal stay of foreigners on the territory of Ukraine.
As a result of joint actions the law enforcement authorities detained 15 foreign nationals – immigrants from different countries of migration risk, particularly Vietnam, China, Syria, Nigeria, Cameroon, Senegal, Côte d'Ivoire, Azerbaijan, Georgia, Afghanistan. The violators of the rules for stay on the territory of Ukraine were in one of the industrial markets of the city.
These citizens were taken in SMS in Odessa region for drafting legal documents and making legal decisions under Part 1 Art. 203 of the AICU.
Source:https://dpsu.gov.ua/ua/news/v–odesi–prikordonniki–viyavili-15-inozemciv–z–porushennyam–pravil–perebuvannya–v–ukraini/