09-07-2015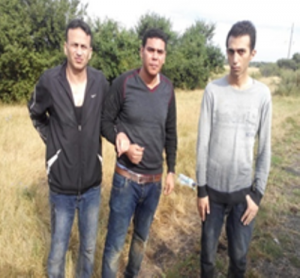 The staff of BS "Goronglab" of Mukachevo Detachment in Transcarpathia apprehended 3 illegal migrants for the attempt to cross the state border of Ukraine in illegal way.
The border guards received information from the local resident of the populated area Batrad about the movement of 3 unfamiliar persons looked as illegal migrants by their appearance.
According to the results of this information three unknown persons were detected and detained. Later on, the persons were identified, they were – 2 citizens of Syria and 1 citizen of Egypt. It was established after detention that the Egyptian needed medical aid. Border guards called for emergency from Berehovo Municipal Hospital.
Now, the additional border detail checks the surrounding locality and takes active measures as to detection of possibly involved persons to this infringement.
The border guards of Mukachevo Detachment express their gratitude to local residents of the border area for manifested watchfulness, and call the local population to interact with the border guards in future on issues of Ukrainian state border security.