13-07-2015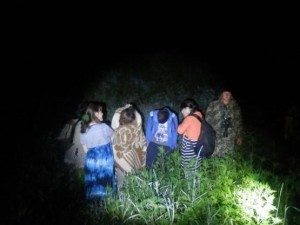 The border guards of Mukachevo Detachment detained 6 illegal migrants in the area of responsibility of BS "Vilok".
The border detail detected a group of persons 700 m before the border on Hungary. After the main and repeated request of the border detail to stop the movement, the unknown persons speeded up their motion towards the neighbouring country and attempted to escape. Aiming to detain the violators, a warning shoot was performed after which the persons stopped. There were 6 persons without documents, of them 4 women and two children being the citizens of Uzbekistan.
It shall be recalled that the staff of State Border Guard Service in close cooperation with the bodies of Border Departments of the countries of European Union conduct an action in the frames of joint operation "Border-2015".
The operation aims at detection of the smuggling channels of illegal migrants, possible routes of their travelling, detection and compromise of the existing channels of unlawful activity along the entire territory of Ukraine.
In total, 300 illegal migrants have been detected and detained since the beginning of the operation with the interacting bodies.