13-07-2015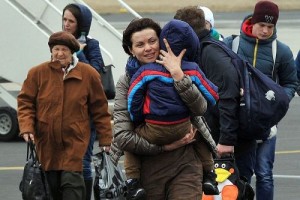 Due to the intensified situation in Ukraine there is a possible flow of the refugees from the territory of Ukraine as well. It was reported by the Czech President Milosh Zeman, thus calling the Ukrainians as close people by make-up who are ready to work. "I think the day comes when our border will be guarded by the army again", – the President shared by his point of view.
According to the forecasts in the course of the next year 5-7 million illegal migrants will enter the country, and in this year – about 3500, it was announced by the Minister of Interior Mykhail Khovanets.
It will be recalled that last week the government decided to accept a hundred and a half illegal migrants from the southern countries by its own choice by 2017. The Cabinet of Ministers has already allotted for the MFA additional 230 million koruna for these needs for the year 2015.
Nowadays, the government of CR has adopted a series of vital laws and drafts. Among them there is a new intra-political policy of the country as well as a document devoted to the nuclear power engineering. A new concept considers five moments: country's security, economic prosperity of Czech Republic, values recognized by the country and rendering consular services to the citizens of Czech Republic abroad, and care of good country image in the international arena, – the Minister of Foreign Affairs Lubomyr Zaoralek reported.