17-07- 2015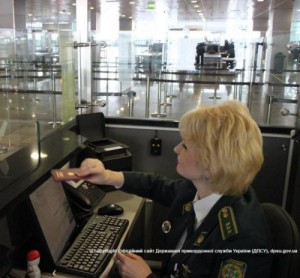 Border guards of Separate check point "Kyiv" detained a citizen of Georgia intending to cross the state border by forged Polish passport.
Thus, at about 9 a.m. a man presented his passport for traveling abroad of the citizens of Poland in the course of passengers registration for the flight "Kyiv – Tbilisi" in the hall "Departure" in the airport Zhylyany. As it was established later on the man was 23-year-old citizen of Georgia. He reported that the forged document was purchased in Georgia with aim to enter the countries of European Union without any obstacles. However, he decided to use it this time in order to avoid the administrative responsibility for the violation of stay terms in Ukraine without registration.
An administrative protocol was drawn up regarding the persons and materials are passed to the court for making legal decision.
Besides, two more stateless persons were detected who arrived to Boryspil from Kosice and presented the forged Romanian passports to the border guards. Soon, the persons will be returned by a flyback.