18-07- 2015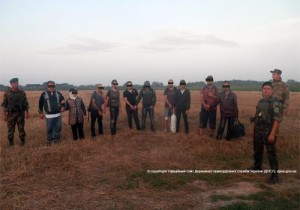 State Border Service of Ukraine on order execution performed by the President of Ukraine continues to apply the complex of measures aiming at counteraction to illegal migration at the state border. Thus, nowadays special operations are conducted with involvement of the Force Departments not only of our country and by the neighboring ones as well. One of them is "Border-22015", the principle target of which is to fight against illegal migration.
Besides, the border guards detained 10 persons without documents in the area of BS "Kosyno" of Mukachevo Detachment by means of the thermal imager. There were 9 men and a woman among them. According to the words of the detainees – 8 of them were from Syria and two more from Iraq.
So far, the illegal migrants are delivered to the Border Subdivision. Their further destiny will be defined by the court.