19-08-2015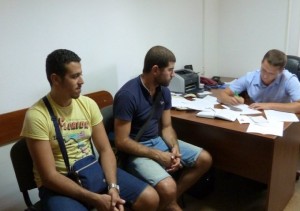 In the framework of operation "Border – 2015" two citizens of Morocco were detected in Uzhgorod, –  it was reported in the Transportation System Department of Transcarpathian region.
Two Moroccan citizens were detected in the regular bus "Lviv – Uzhgorod" in a result of investigation conducted by the employees HD of SMS together with border guards
When checking documents it was discovered that the men did not have any permission to stay and reside on the territory of Ukraine.
Among the documents identifying the personality there was only driver's license with a photo of the European sample. The foreigners indicated that a car purchase to be their purpose of the visit to Transcarpathia.
Violating the rules of stay in Ukraine, Moroccan citizens were called to administrative responsibility.
Joint border operation "Border – 2015" has been held since 22 June to 31 August. The aim of the target preventive measures is to prevent and counter illegal immigration and other violations of Ukrainian legislation in the sphere of ​​migration as well as to bring the violators to responsibility in accordance with the laws of Ukraine