10-09-2015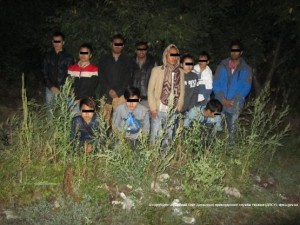 Ukrainian, Slovakian and Hungarian border guards detained 13 illegal migrants for some hours in the frames of joint operation.
Slovakian colleagues informed the border guards of BS "V.Bereznyi" about the movement of unfamiliar persons. The reaction group selecting the place of possible stay of the violators detained 11 persons, who were moving beyond check point in the course of conducted searches.
Out of detainees – 8 persons introduced as citizens of Vietnam and 3 – from Bangladesh.
Besides, in the frames of operation Ukrainian border guards together with the Hungarian colleagues detected 2 citizens of Syria.
Border guards of Mukachevo Detachment detained the violators without documents 50 m before the border line on Hungary.
Now, all the detainees are delivered to Temporary Detention Centre.
Their further destiny will be defined by the court. Besides, MOI, SSU and Free Secondary Legal Aid Centre in Transcarpathian region were informed about this detention.