14-09-2015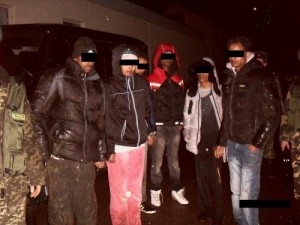 The measures on reducing the level of unlawful activity continue, including that connected with illegal movement of the illegal migrants through the state border of Ukraine in Transcarpathia.
Only during the last day, the border guards detained 5 illegal migrants from Syria and 1 citizen from Iraq in the area of BS "Luzhanka" of Mukachevo Detachment. The trespassers were noticed at night time by means of thermal imager.
The reaction group of the Mobile Border Detachment started two times. First, two citizens of Syria – a man and a woman – were apprehended in the approaches to the border on Hungary.
Later on, 3 citizens of Syria and one from Iraq were detected 450 m before the state border in the course of searching operation. All detainees had no any documents.
In total, there are 124 citizens of Syrian being detained since the beginning of the current year by the officers of State Border Guard Service.