15-09-2015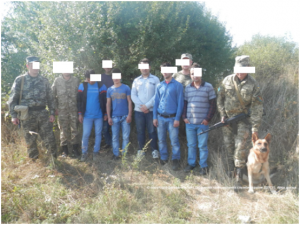 Some groups of illegal migrants were apprehended in the evening by the military men of State Border Guard Service in Transcarpathian in the frames of joint actions on counteraction to illegal migration conducted together with the neighboring countries.
Group of 6 persons was detected due to message received from Hungarian colleagues. The border detail in the course of the search activities discovered them by means of the service dog in the area of responsibility of BS "Kosyno" of Mukachevo Detachment. All detained persons reported that they arrived from Afghanistan, and planned to get to Central Europe through Ukraine.
One more group of 5 persons being detained by the border guards of BS "Vilok" of the same detachment in the suburb of the village Velyka Palad, also arrived from Afghanistan.
In both cases migrants were delivered to border subdivision to prepare administrative and procedural documents.
Filtration measures are conducted to identify them and ways of entering Ukraine.
Their further destiny will be defined by the court.