21-09-2015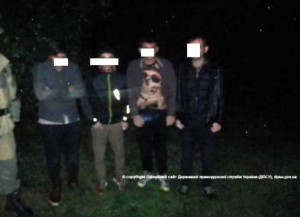 In the evening in two areas of responsibility of Mukachevo Detachment, border guards apprehended 5 violators of the state border travelling towards the Ukrainian-Hungarian border.
Four men were detected by the law enforcement agents of BS "Vilok" 500 m before the state border on Hungary. The travelers had no any documents; they reported to the border guards that they arrived from Iraq.
Border detail of Mobile Border Post "Mukachevo" detained the citizen of Syria in the area of BS "Luzhanka".
During detention the man intended to hide and run at night time, however, he was stopped and delivered as other detainees in the border regions to prepare procedural documents. The further destiny of the "travelers" will be defined by the court…