21-09-2015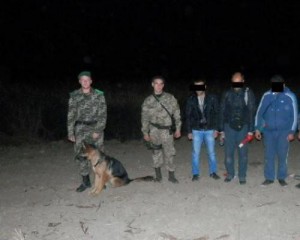 Three persons without documents were apprehended by the border detail of BS "Luzhanka" of Mukachevo Detachment, who were moving towards the border on Hungary. Detained men said that they were the citizens of Syria.
Also, 5 citizens of Somalia were detained by the border guards of BS "Goronglab" of the same detachment.
Unfamiliar persons were noticed by the border detail using thermal imager complex. It was managed to detain illegal migrants 40 m before the state border on Slovakia.
One more citizen of Syria and one citizen of Jordan were apprehended in the area of BS "Stuzhytsya" of Chop Detachment.
Information about the movement of two unfamiliar persons nearby the border was given by Slovakian colleagues. Aiming not to admit the border crossing, the group of reaction started to the place 300 m before the border line and arrested the border guards.
In all cases illegal migrants were delivered to Border Subdivision to prepare administrative and procedural documents.
The further destiny of the detainees will be defined by the court.