22-09-2015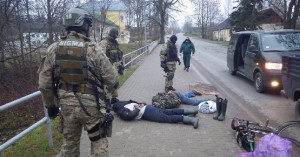 Two Transcarpathians assisting in transportation of illegal migrants to Slovakia turned out to be under investigation …
On the instruction of Public Prosecutor's Office of Transcarpathian region, SSU in the region has introduced data into the Unified Register and criminal case is commenced on the materials of pre-trial investigation performed on the territory of Slovakian Republic concerning two Transcarpathians, who due to preliminary deal assisted the illegal transportation of illegal migrants to Slovakia.
As it was established from the materials of the criminal proceeding of the law enforcement agents of Slovakia Republic, two citizens of Ukraine on preliminary deal with the citizens of Slovakia, Poland and Vietnam helped four Vietnamese in illegal crossing of the state border of Ukraine and their further accompaniment on the territory of Slovakia.
As it was reported in the Regional Public Prosecutor's Office, pre-trial investigation in the criminal proceeding commenced on the signs of the criminal offence stipulated by Part 2 Article 332 of CC of Ukraine (illegal transportation of persons through the state border of Ukraine committed by previous concert by the group of persons) entrusted the office of SSU of Ukraine in the Transcarpathian region.