22-09-2015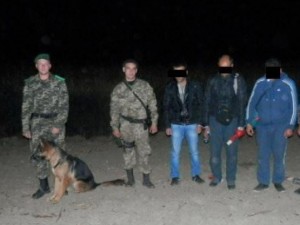 More and more refugees from Syria intend to get to Europe through Ukraine as well. Sticky fingered citizens gain profits on this. Ukrainians assist refugees to break the law for some thousand hryvnyas. How do they get there and what are their hopes?
They wished to find happiness in Europe. They were unlucky. They were detained by the border guards at Ukrainian-Hungarian border in Transcarpathia. Akhmed, Omer and Musa attempted to escape secretly to Hungary at night.
– We were afraid much.
Akhmed origins from Racca. He has lived for 12 years in Ukraine. He studies in Kharkov – at Medical University. He got married here. Together with his wife and three children he departed to his motherland. But a month ago he returned – escaped from war together with his family.
– I sold my car and arrived here.
Our way was to Germany. There we planned to get refugee status.
– Europe provides with dwelling, then passport and you can go anywhere you wish. Germany accepts everyone. Hungary does not accept, it sends back.
There, in Europe, I have already a lot of friends, the same illegal migrants. Namely, they advised me to cross the border through the woods and fields – beyond the check point. A person was found in Lvov who could help them to get to Transcarpathia.
Akhmed:
– We paid him 14 thousand UAH to take us and he said us where to go. Just for this and that's all. Everybody pays. He said: go directly there. We walked a little, not for a long. We sat still, we felt their talk via corn, we were sitting quite. They came to us and caught us.
The border guards report: those people go to Europe through Ukraine who lived and studied here. After all it becomes harder to get from another side of the Mediterranean Sea to Europe: Hungary has closed its borders – constructed a fence there, Croatia stopped the movement along all roads leading to Serbia. Slovenia is also not glad to meet refugees. It is longer, more expensive and dangerous to travel from Syria through Ukraine to Europe.
Gennadiy Stanbula:
– It is check point of Kosyno in Transcarpathia. It is nearby Hungary, just 200 meters. Almost every day Ukrainian border guards detain here refugees from the Nearer East. Illegal migrants attempt to get to Europe via Ukraine.
Stepan lives in Kosyno. He is one of the volunteers assisting the border guards to catch illegal migrants.
– It is the highest point in Kosyno. From here you can have a good observation. The distance is maximum 300 m to reach the Hungarian border.
The man tells: he attended special courses on Civil Defiance in Hungary to detect the illegal migrants. His neighbor Nikolay could not even imagine waht situation will occur when illegal migrants arrive here. He has already seen the horrors – how migrants attack the borders of other countries.
Nikolay, a resident of Kosyno:
– No one knows what person passes here and takes some diseases dangerous for the villagers.
The man is disturbed: Europe cannot stretch and hardly can expect anyone.
– Come here, we accept everybody. Hungary has made a fence. The migrants say that they sell their homes and escape. It is impossible to sell a house under war situation. If Hungary closes all, we will have a lot of refugees here.
Border guards mark that the number of refugees has sufficiently increased. Only in Transcarpathia, more than 700 illegal migrants from the Nearer East and Africa were apprehended.
Vladimir Parshikov, head of Mukachevo Border Detachment:
– The growth is marked this year. 66 citizens from Syria – were caught in the course of the last month and a half. So, activation of these processes is registered. As it is seen – more than 40%, if taking in numbers.
Aleksandr Meleoglo head of Border Service Department "Luzhanka":
– We are not insured against the flow. Our Ukraine has always been transit. Thus, the movement of migrants will be directed depending on actions of the neighboring countries.
The illegal migrants are apprehended by means of thermal imager. Due to it, all alive can be observed in the radius of 12 kilometers. Unfortunately, there is no thermal imager in each check point.
– Now we see the person moving towards us. Our device reacts to heat.
However, illegal migrants are unable to cheat the device.
Aleksey Marunych, head of Border Service Department "Kosyno":
– The violators go through the difficult localities and different agricultural cultivations such as corn, wheat, crop plants – the places they can hide and thermal complexes unable to fix.
These loopholes are very well known to the state border guards. Thus, illegal migrant are detained any way.
– There are 3 citizens of Syrian in the room at the moment. It is Mukhamed, Akhmed and Fakhed. They are doctors. All of them studied in Ukraine. They met and arrived to Transcarpathia in order to cross the border in illegal way together.
– War. You know. The single option is here – only to Europe. Through Ukraine, Hungary, Denmark and then to Germany. They live in the room of 20 sq.m., and illegal migrants are kept here for three days.
In some minutes they will be taken to the Court. The refugees will be forced to leave Ukraine voluntarily or be fined. Not often those who could not pass to Europe from the first time, they go on doing this. They do not wish to return home.
– It is a dirty war. Let them stop this war. Everybody will return home. We do not need Europe, no any other country. Ukraine, yes, – for us to study here and get diploma.
No one would like to forecast the number of refugees crossing the Ukrainian border being unnoticed. Thus, the Syrians hope to be still expected in the Western Europe.