20-11-2015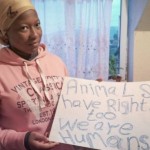 Unlike Europe, there is no any splash in the number of refugees fixed in Ukraine in connection with the aggravation state in the Near East. It is logically: few persons wish seeking shelter in the country being in the war, and where people live in complete poverty…
According to the evaluations of UNHCR about 6-7 thousand refugees and persons being in the procedure of refugee status obtaining stay in Ukraine.
Governmental assistance is limited to 17 UAH, being given to a person who obtains a refugee status. There are also two Temporary Accommodation Centers (in Odessa and Transcarpathia), the number of places is limited. Those unlucky to get free room – there are a lot of them – have to rent the accommodations themselves and look for the means of money earning.
Khurshida
Khurshida has been staying in Ukraine already four years; however, her destiny is not yet settled. The woman was forced to leave Uzbekistan due to persecution. As there is no war in the country of her origin, she is not accepted as a refugee. However, in accordance with migration legislation, she has a right for a subsidiary protection.
Together with her daughter and 30 more asylum seekers, she lives in the Mukachevo TAC. She reports that gaining disreputation in the Centre's administration because she often makes complaints and tries to stand up for the residents' rights. According to the woman's words, once there was a case, when because of the broken pottery the investigator came and required to write an explanatory note on the request of the staff. When she refused – he threatened: "A policeman shouted at me. He said that he would take me and no one will find me."
Often asylum seekers are faced with xenophobia on the part of the local inhabitants."We cannot live here. Mukachevo people do not fully accept us. For example, Africans are beaten, abused here, "- Khurshida says.
Recently, the man in the street threw a banana peel to the face of her daughter, called the children monkeys. And these cases are not single.
Law enforcement agencies usually react listlessly upon similar situations with refugees. Human rights activists also report about the large number of ungrounded stereotypes being formed in the Ukrainian society regarding asylum seekers.
"Very often we face with stereotypes that mostly thieves and scoundrels flee, however, it is primarily associated with the need to survive on the territory of the country about which you know nothing, you do not know the language, you do not know any established social standards, "- Daria Moroz marks, the head of the project AUCF "Right for Protection"- an organization rendering legal assistance to asylum seekers. The negative attitude of the Ukrainians and almost complete lack of financial support from the government quite often lead to the fact that the refugees do not stay in Ukraine, and see it as a buffer zone on the way to the EU. So Khurshida, who still few years ago connected her future with Ukraine, has now changed her mind.
"I do not see any future here. My husband is now in Europe, if the issue on documents will be solved, we may join him. I thought differently a year ago, and two years ago as well. I've always said that who wants to stay in Ukraine let him do it – he may stay, work and live here. But still there are circumstances greatly changed my plans, my opinion and my decision ", – the woman says.
Diayr and Falka
"There is a concept of reasonable terms. These rational time periods in Europe suggests that the process (a decision making on refugee status – Ed.) may not last for more than six months. In civilized countries, it really takes place for more than six months. Unfortunately, in Ukraine the procedure on documents consideration may be completed fairly quickly because of the huge number of rejects. That is, the Migration Service considers, rejects, and the purgatory procedure starts evidencing that collecting grounds for a defense in this country may take years.
It means that as to all judicial instances it may pass three circles, four, five and so on. There are clients being in the procedure for already 18 years" – Dariya Moroz states.
Diyar was unlucky on this point. His family has already been residing in the Centre for more than seven years, from its opening. They moved from Syria because of persecution of ethnic curs yet before the war started. No member of the family has still been granted the refugee status. It is very difficult to live all this period in the hostel. Regardless of that the Temporary Accommodation Centre is officially an open institute.
"The board sets its rules here. They may enter the room in any moment, to examine all around. We are in their hands… Lights are off at 11 p.m. and everybody needs to be at its place. If I am going to leave this place I have to write an application about the place I move to (town, address, phone number) for them to know where to find me" – the boy tells.
"It's difficult here, of course, to live all the time in one place, in one room. It is very hard. There are days when such depression covers that do not know what to do, I want to go out and not come back. But you know that I have no place to leave for, I do not wish to stay on the street – Diyar's sister, Falk says. – It is very difficult to find a job here, no one will employ you. There are even such employers, who will look at you and say, "Nightmare, no!" No way. "
According to the words of Dariya Tolkach form "Rights for Protection", there are some considerable difficulties with employment of asylum seekers.
"Despite the fact that they stay legally on the territory of Ukraine, possessing documents confirming that they are in the procedure, applied for help, protection in Ukraine in order to be employed, they need to be issued a work permit. A permit is granted on the basis of this certificate, which is valid for three months. The procedure of obtaining the permit also takes about three months. It means that prior to work permit receipt the certificate issued by the Migration Service is terminated and the person again may not continue to work "- she explains.
It is reported by UNHCR that rarely refugees with higher education are managed to confirm their diploma in Ukraine, and this, in turn, does not allow getting a job in their field. The very few resolve to start their own business, in return the majority makes do of part-time jobs.
Protest
The Centre provides a shelter and food packs, but its functions are limited to it. Other needs, such as, for example, warm clothing, hygiene products, etc. – are not provided by the state.
"Now it is getting cold, and I do not have any boots and jackets. We have addressed to the Board on this point and we were told to write an application. We have done it and every day we hear: "Come tomorrow". We even have to fight for products, for food all the time"- the asylum seeker from Guinea Camara Fatmata reports.
Last year it resulted in the people's protest to draw attention to their problems and needs, as well as to expression of bad attitude on the part of the administration.
"There was the same situation last year. Whatever you ask – the answer is about lack of money. The amount of foodstuff  is halved. The officers do not consider you a human being, it was disrespectful. After every little thing we have to quarrel with them, to call to Kiev, to get our way. And we just got tired of it, – Khurshida says. – We gathered, had a mass-meeting, got outside."
The UN has confirmed that the conditions in the centers really require to be improved, and the people who work there often do not have sufficient qualifications.
"Several reasons have been mentioned, in particular, feeding problems – insufficient rations, living conditions, mattresses, furniture, as well as heating, – the UNHCR Public Information Adviser Nina Sorokopud comments. – Unfortunately, in Ukraine the persons working in the centers not always receive adequate training. We seek counseling them, give advises, and it also requires some investment on the part of the government. As well as it is necessary for the staff to work there for a long time. Unfortunately, since wages in such positions are minimal, they are changed frequently and do not understand the work specifics, they are not always set up to the dialogue, to support these categories."
Samim
Sam, as he is called by friends and clients – is the owner of one of Kiev's barber-shops. The band "Okean Elzy" filmed its clip for a new song here. The guy is only 19 years old, but he can be called a successful businessman. Now it is difficult to believe that eight years ago, he came to Ukraine from war-torn Afghanistan with his mother and younger brother. His father stayed in Kabul for some time, thus, the boy had to support his family on his own.
"The whole family must be fed, and you are alone, without father, being in the age of eleven. In fact, it is very difficult,"- the guy remembers that time. During the day he worked as a loader at the market in Odessa, and in the afternoon he studied at night school.
When his father arrived to Ukraine, the family moved to Kiev. The boy completed his studies and received two specialties – the programmer and designer. However, he decided to connect the life with the hairdressing business.
"My hair was not well cut. I did it myself at home all the time. Little by little, I began to realize that I do it pretty well", – Sam says.
I practiced, watched video tutorials and one day I got a job in Barber shop. After working in several establishments he decided to start his own business – a Barber shop appeared in Kyiv.
"Many clients ask me where I am from – and I am telling of Afghanistan. They do not believe me, thinking that I am kidding" – the boy tells. Till now he is officially a refugee, however, he hopes to be granted Ukrainian citizenship in six months.
"Citizenship in Ukraine – and not only in Ukraine – is not granted for no particular reasons. It is not a candy to be given for no reason. If you behave adequately, you will be useful and you will be granted the passport with pleasure" – he is convinced.
Kasim
Kasim has already been a professional boxer already for three years. The boy has trainings every day and shows good results at the competitions, however, he cannot represent Ukraine at the international arena, as he does not have citizenship. Together with his family Kasim moved to seek asylum to Ukraine from Afghanistan, where there is war.
"First, I wanted to go in for box just for myself to be able to protect in the street in order to protect family. Then, the trainer advised to participate in the competitions. Thus, little by little I started to box and achieved good results", – the boxer tells.
Kasim wins Kiev championships, participates on behalf of Ukraine, however, he dreams of an international career: "He took part at the Ukrainian championship three times, he won championships in Kiev, Ukraine, but he cannot go abroad because he does not have citizenship."
"He is a very hardworking, purposeful, he has a dream. If all goes well, he could go to the Olympic Games (…) This man can bring success and the result to our country ", – Kasim's coach Valentin says. After graduating the Athlete School he is planning to enter the Institute of Physical Training and to study for a coach: Life is senseless without boxing. A week without training makes me ill. Kasim really likes Ukraine, he connects his future destiny with it and hopes to acquire citizenship soon.
Radzh
Radzh is one of those few who managed to acquire not only refugee status in Ukraine and also Ukrainian citizenship. Together with his friend he rends a flat in Uzhgorod and sells tea at Transcarpathian markets. The boy was forced to leave native Sri Lanka because of war. He applied for asylum in Ukraine and had been living in the hostel for the refugees in Mukachevo for several years. He mastered the language on the children ABS Book and communicating with Ukrainian friends, he got used to cold and snowy winter, and organized his life. Most of all he misses his mother and the sea as well as for delicious fruits. "When I arrived to Ukraine I had had difficult times, knew nothing, even could not prepare food himself. He had to get to know everything, no mother was here." – the boy remembers. Still he keeps ABS book on the shelf being given by his friend: "It is my souvenir. I will keep it to show to my daughter or son, how their father was learning Ukrainian language".
"When I was given the Refugee Certificate I decided not to apply for any assistance to Ukrainian government. I can work already, being from Sri Lanka, I doubt if I may get any job here and decided to start my business." – Radzh tells. Now, he plans to expand business, supply tea to the European countries. The boy loves Ukraine much, especially Transcarpathia, first of all for people accepted him and supported properly.