24-12- 2015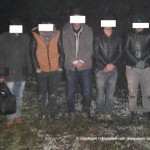 Five citizens of Turkey were apprehended in the evening by the staff of State Border Guard Service and National Police in the course of information realization given by operative sub-department of Mukachevo Detachment.
The violators moving towards Hungary through the BS "Luzhanka" were detected by the law enforcement agents by means of night thermal imager. During detention one of the "travelers" intended to escape, however, military men stopped him at once. The men did not have any documents. Four of them introduced themselves as the citizens of Turkey, one – from Austria (previously native of Turkey).
Detainees were delivered to Border Department of BS "Luzhanka" in order to perform filtration and verification actions and prepare administrative-procedural documents.
Besides, border guards of Chop Detachment detected two persons traveling in the direction of Ukrainian-Slovakian border by means of portable thermal image complex. The violators were apprehended in the area of BS "Uzhgorod" when they intended to get over the fence. They were the citizen of Georgia and Ukrainian woman. Verification measures are undertaken with regard to the detainees.