20-01-2016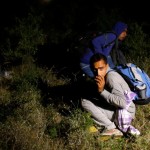 Transcarpathia bordering on four European countries remains the transfer base at the illegal migrants' large route from Asian countries to the Western Europe. Namely here, law enforcement agents apprehended the greatest number of Asian seekers of European happiness in comparison with the rest part of Ukraine – it is reported by the Chief Department of National Police in Transcarpathian region.
The problem of illegal migration from Asia and Africa to the Western Europe through Transcarpathia does not have catastrophic scales as in the end of 90s – in the beginning of 2000-s, however it remains actual. After war intensification in Syria a new wave of illegal migrants is expected, who seek to reach calm and sated Western Europe.
The majority of Asian illegal migrants selects the way to Germany, Austria, France and other Western-European countries through the states of Eastern Europe, in particular, through the Hungary and Balkans neighboring for us. However, there are many enough to get through Ukraine. The migrants usually reach Ukraine in two ways: by sea – through Odessa and Russian-Ukrainian border in Chernigov and Sumy regions.
Lately, the number of refugees from Turkey has enlarged, in particular, ethnic curds. At the present moment, a criminal case is under consideration in Berehovo Court as to the citizens of Austria, ethnic Curd from Turkey, who was caught with his tribal kinsmen in Transcarpathia.
In 2015 Ukrainian Police, specifically the Fight Human Trafficking Sub-Departments in total apprehended 32 organized groups of illegal migrants in the country being composed of 162 foreigners. The greatest number of them – 20 groups of illegal migrants caught in Transcarpathia. For comparison, in the neighboring Lvov region, which posses the large border on Poland, police detained only one groups last year; one was apprehended in Chernigiv region bordering on Russia, 3 groups in Chernovtsy region bordering on Romania; by 2 groups were detained in Odessa, Sumy, Kharkov regions; by one in Kyiv and Rovno regions. The fact is that 5 groups were apprehended last year in Kyiv, where the groups of illegal migrants are formed before their way to Transcarpathia.
According to the information of Fight Human Trafficking Department of Transcarpathian Police, 94 illegal migrants were detained just by their personnel (and there are also officers of SMVI, patrols, border guards, etc.) last year. These were Curds, Syrians, Iranians, Afghanis, Vietnamese, etc. The migrants reach Europe through Hungarian as well as Slovakian and Romanian borders. Thus, in March 5 illegal migrants were caught in Berehovo district, 3 Afghanis – nearby Chop in July, and close to the village of Solomonovo – 4 more, 4 Vietnamese in April were arrested by Police in Uzhgorod, and the same number in May.
Berehovo area is attracted by the Hungarian border. Thus, police detained 9 citizens of Syria in January-March were apprehended, in August – 10 Afghanis. There were also detentions in: Rakhov district (Romanian border) – 2 Syrians (April), Velyka Kopanya – 5 citizens of Moldova, Mukachevo – 2 Vietnamese and 2 Syrians.
The majority of the illegal migrants are found at the entrance to the region, in particular at the Special Police Post in Nizhni Vorota. Last year there were detentions of the migrants from Iraq, Syria, Afghanistan, Vietnam, Sri Lanka and even citizens of African Somalia. In total, there were about forty illegal migrants.
Ukrainian smugglers often are discovered together with illegal immigrants. Now, Police will perform investigation of the criminal proceedings, which had been done by SSU recently.
Law enforcercement agents are doing their job well. Unfortunately, the court is usually limited to  the suspended sentences as for the smugglers. After that, they again continue their previous activities … This is very attractive shady business. Every illegal migrant pays from $4 000 to $ 7 000 (depending on the country of origin and route) in order to get to Europe. And while there is a demand, there will be an offer. Therefore, the fight against business on illegal migrants in the Transcarpathian region continues.