23-01-2016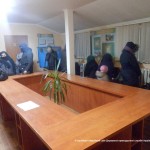 Border guards of Mukachevo Detachment revealed 14 illegal migrants from Afghanistan in the area of BS "Kosyno", who were moving towards the border on Hungary.
Thus, in the course of current-awareness information realization border detail detected a big group of persons travelling towards the border by means of portable night vision imaging device. The detainees were 3 children, 8 women, one of which was pregnant, who had no any documents. During the interview it was established that all 14 persons were the citizens of Afghanistan intending to get to EU countries in illegal way. Also, the detainees reported that they were delivered by mini buses and one car to the border area.
So far, the filtration measures are still performed as to verification of the circumstances of migrants' illegal trip. All citizens are delivered to Border Department, corresponding assistance is provided.