01-03-2016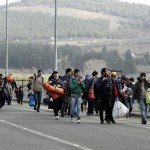 Migrants from Syria are getting to Ukraine
Migrants from Syria may be settled in Kyiv region, local residents and nationalistic organization are totally against.
Scandal aroused in Ukraine in a result of Refugee Centre construction in Kyiv region.
Local residents and nationalistic organizations strongly oppose commissioning of the Centre for migrants from the Near East. The authority stresses that camp construction is an obligation of Ukraine before EU necessary for introduction of visa free regime with Europe.
Long-established obligation
Refugee centre will soon be opened in the town of Yagotyn, Kyiv region. It is designed for more than 200 persons. The first part of the centre will be opened in spring. It is designed for 100 persons.
State Migration Service mentions that already in 2002 Ukraine has become liable to protect refugees, refusal to open the Centre may influence upon granting visa free regime to Ukraine.
Migration Service supposes that refugees' settlement in Yagotyn is favorable for local inhabitants as everything created here will be on the basis of European grants and funds.
"This Centre may become a public visiting card. It is planned to lodge families with kids. The children will attend school, they will communicate with Ukrainian children. Social project on English language learning is possible as well as interactive classes, computer classes. All this will be based upon European grants and at the expense of European costs. This is also an opportunity for additional working places for the residents" – it was said by the Department.
Migrants from Syria are expected
The migrants will be accommodated in the uncompleted hostel, where before it had been planned to lodge victims of Chernobyl. The construction works inside are at the final stage. It was urgently finalized in October. Financing was performed by European Union and state budget. Almost 34 ml UAH was allotted for this Centre equipping.
Director of Refugees Acceptance Centre from the Nearer East reports that only those foreigners will be lodged here, who have been granted an appropriate status by Ukrainian government.
Local residents go against
Regional Council Deputy Armen Shaharyants says that Yagotyn will not withstand such an inflow of Syrians.
"There are 18 thousand people in the town. Refugees in number of 250 will be a disaster for the city – the deputy noted. – At the time when full Europe refuses from refugees, when they behaved in such a way in Germany, in France, and even in small Belgium – the happiest country in the world, we are forced to accept them."
Also, people are afraid of antisocial behavior, disease and crime level increase in the town. It is said in the Town Council that Migration Service is interested neither in the opinion of the government nor local residents. Mayor Natalia Dzjuba says that she understands people from Europe, Asia and other countries of the world, who had to leave their houses due to the obvious reasons, but we must think of ours. The part of the building is for refugees and other block "B" is for internally displaced persons from the east of Ukraine."
Local residents even made a public meeting against refugees' accommodation in Yagotyn, however no any results of this protest. The representatives of Migration service only promised to be interested in public's opinion.
Nationalists are indignant
The Right Sector is against the Centre opening as well as the Nationalist Organization "C 14". This subject is also keenly debated in Ukrainian social networks.
"Neither Migration Service nor the Cabinet of Ministers have asked the residents of Yagotyn – whether they are glad to have construction of such a Centre in exchange for the mythical opportunity to travel to Europe … The Refugee Centre opening is extolled by the Cabinet of Ministers in full, which must justify itself for the costs received before the EU, but these are stupidly wasted money, "- the Right Sector noted.
The RS cites the example of Germany, where migrants attacked the women, and rises indignation as to fact that the authorities wish to fill Kiev region with "foreigners professing alien culture and traditions, who are not ready to follow the local living rules."
The Party reminds that the authorities refuse to equip the foreigners who fought in the composition of volunteer battalions in Donbass – " Ukrainian government makes a choice between their front figures and Africans with the Syrians towards the last in favor of Brussels" – activists summed up.
According to the Migration Service, as of January 1, 2016 there are about 2 500 recognized refugees residing  in Ukraine, and about 600 people who are in need of subsidiary protection.