27-03-2016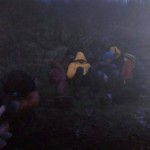 Seventeen illegal migrants were apprehended at night without any identifying documents. The group of illegal migrants (10 Afghanis and 7 Somalis) was caught 500 m before the line of the state border of Ukraine with Slovakian border. Local inhabitant was also detained with them, who performed a direct accompaniment of illegal migrants to the state border of Ukraine.
The foreigner intended to cross Ukrainian-Slovakian border in illegal way. Preliminarily this infringement was qualified as Part 2 Article 33 of Crime Code of Ukraine. It is punished by 3 to 7 years of imprisonment.
Investigation goes on.