04-05-2016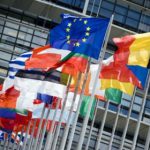 The Foreign Ministers of the Visegrad 4 (Czech Republic, Slovakia, Hungary and Poland) rejected a new proposal of European Commission on the distribution of immigrants by the EU quota during the meeting in Prague on Wednesday, what supposes the payment of 250 thousand euro by a country refusing to host an illegal migrant, for each of them to the accepting state.
The head of Czech Diplomacy Lubomir Zaoralek marked that he was unpleasantly surprised by the proposal. He supposes that EC shall not offer a document that divides Europe. The new scheme of refugees' distribution between EU Member States was criticized by Czech President Milos Zeman. The foreign Minister of Hungary Peter Siyyarto called this idea to be unacceptable, and the position of the EC on this issue to be blackmail, his Polish coulleguet Witold Waszczykowski in his turn wondered whether the rules modification was put forward by the European Commission seriously. The Minister of V4 spoke at a press conference held in Prague's Czernin Palace after negotiations of the V4 Ministers, and also the State secretary of Slovakian MOI Lukash Parizek stated against the compulsory quotas for placing refugees.
The Prime Minister of CR: Czech Republic does not accept compulsory quotas on migrants' resettlement
Czech Republic denies and henceforth will be denying the quotas of refugees' resettlement between the EU countries, which are again offered by European Commission. The Prime Minister of Czech Republic Boguslav Sobotka made a statement in reaction to offer on reformation of the asylum system in the frames of EU; they split Europe and are reasonless. Concurrently, the head of Czech government welcomed the EC offer according to which asylum application shall be submitted first at that country, on the territory of which the migrants arrived after crossing EU border.