06-05-2016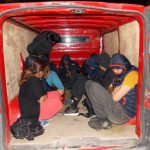 At night, at about 03 a.m. the Interagency Group composed of Human Trafficking Combat  Department and National Police together with the border guards stopped the bus at the road Petrovo-V.Palad, Vynohradiv district in the distance of 1 km to the Ukrainian-Hungarian border in the course of operative actions. There were 12 illegal migrants – 2 women and 9 men. One of them managed to flee during detention. The illegal migrants were transported by 28-year-old resident of Vinohradiv town. During apprehension he had time to take the SIM-card off the phone, however, it would hardly save him from responsibility before the law.
Illegal migrant were handed over to the Border Service Department "Vilok". The driver is arrested according to the Article 332 Part 2 of CCU (Illegal transportation of persons through the state border of Ukraine).
Criminal proceeding is commenced. He is threatened with seven to nine years of imprisonment with property and vehicle confiscation.  The vehicle is placed to the special area of Vynohradiv Police.