27-06-2016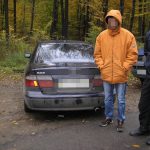 Resident from Transcarpathia was extradited from Czech Republic being in international search and suspected by the Security Service of Ukraine in channel organization to smuggle migrants to EU.
In the beginning of 2013 the malefactor in the compositions of the organized group together with his brother smuggled illegal migrants through the state border of Ukraine. In May of the same year, the activity of this group was disclosed by the staff of SSU in Transcarpathian region. In order to avoid criminal liability after bailment the brothers had been hiding abroad for a long time and were issued an international warrant for the arrest. According to the SSU information, two malefactors were apprehended in Czech Republic by local law enforcement agents in 2014.
One of the brothers was extradited to Ukraine in May of the same year. Both malefactors were sentenced to arrest. Pretrial investigation goes on in the frames of criminal proceeding under Part 3 Article 332 of Crime Code of Ukraine.
The third organizer of migrants' illegal transportation was condemned to three years of imprisonment with property confiscation last year.