19-07-2016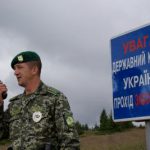 During the night border guards of Lviv, Chop, Mostyskyi Detachments within the frames of special border operation "Border 2016" prevented several attempts of illegal border crossing by citizens of Moldova, Morocco and Guinea.
Thus, border guards of BS "Rava-Ruska" Lviv Detachment discovered an unknown man trying to enter the neighboring Poland beyond the check point. He was caught without any documents near the state border. During the interview the offender said that he was a citizen of Moldova and was going to reach one of the EU countries. At the moment he is delivered to the Department of Border Service to clarify all circumstances.
One more "traveler" was detected by the border guards of Mostytskyi Detachment. Information about the appearance of unknown person in the border area was received from the members of Public Unit. As a result, a native of Morocco without identifying documents was detained by district inspector. Administrative documents were prepared with regard to the citizen.
Also, border guards of Chop Detachment discovered a citizen of Guinea 50 meters before the border, who tried to enter the EU in illegal way. After an unsuccessful attempt, the detainee decided to offer the district inspector a cash reward in amount of $ 150 for his problem solution. He received a categorical refusal on this point. The competent authorities were informed about the issue.
Source: http://dpsu.gov.ua/ua/news/moldavanin-marokkanec-ta-gvinec-namagalis-nezakonno-potrapiti-v-kraini-s/