18-10-2016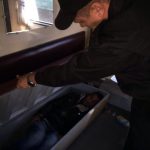 Border guards apprehended a citizen of Sri Lanka and Ukrainian in the railway check points, who attempted to cross the border in illegal way.
The officers of SBGS in the check point "Mogyliv-Podilsk" detected one passenger in the train "Moscow- Chisinau". In the course of the check the man was detected having carrying a passport of a citizen of Sri Lanka and the certificate of permanent residence in Ukraine. Administrative protocol was prepared as to the violator in accordance of the Article204-1 of Administrative Violations Code of Ukraine. The traveler himself explained that supposedly over slept his station, and then, hid to avoid being noticed by the conductor.
One more violator was found in another train at the checkpoint "Kyiv-passenger" by the border guards of Separate Checkpoint "Kyiv". The man traveled by Hungarian passport. During the document review it was discovered that it was illegally issued in Hungary. According to the detainee's words, he is a citizen of Ukraine. Currently corresponding material are drawn up with regard to the trespasser, verification goes on.
Source:http://dpsu.gov.ua/ua/news/u-poizdah-prikordonniki-viyavili-shrilankiycya-u-runduku-ta-ukraincya-z-pidroblenim-pasportom/