30-10-2016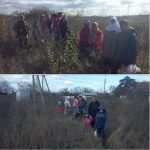 Border guards of Mukachevo Detachment stopped 4 citizens of Afghanistan, who intended to cross the state border in illegal way with seven minors. Information about detection and movement in the suburb of the populated area Dyida, Berehovo district, was received from the local resident.
Starting immediately to the specified place, border guards stopped the foreigners two kilometers before the state border. Detainees did not have any documents. It was established that they were the natives of Afghanistan and planned to get to one of the countries of European Union, taking seven infants and minors, the youngest of which was of 2013 DOB. Besides, considering the weather conditions their clothes and shoes was too dirty and wet, and children became frozen much. Border guards delivered the travelers to Subdivision, where they were offered hot tea. So far, all circumstances are clarified as to illegal trip as well as persons involved in organization of smuggling the foreigners over the border.
Also, the border guards of Mukachevo Detachment detained two men of African and Eastern-Asian appearance in the suburb of the village Gecha, Berehovo district. During the verification measures it turned out that foreigners did not have any identification documents. According to the words of the detainees it was learned that one of them was the citizen of Sudan, studying and residing in Kharkov in the course of some period. The citizenship of another one is still under establishment, as detainee does not know any European language. Probably, the migrant is a citizen of China. In order to perform filtration measures as well as prepare necessary administrative protocols the men were delivered to Border Guard service Department.