14-11-2016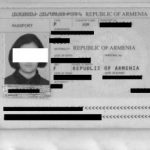 State Border Guard Service officers prevented illegal crossing of the state border by Armenia citizen (woman) and a citizen of Ukraine.
During the border control border guards of Kharkiv Detachment in the checkpoint "Pletenevka" discovered that passport presented by the citizen of Armenia belonged to another person. A woman reported that she tried to cross state border illegally to help as if her friend to extend her stay within the territory of Russia. The citizen was refused in crossing the border and returned to the territory of the Russian Federation.
Besides, a forged permanent registration mark of Ukrainian Consulate in Moldova was discovered in the check point "Platonovo" when undergoing passport control at the exit from Ukraine. The representatives of National Police of Odessa region were informed about this fact. Protocol was prepared as to exempt of his passport documents for travelling abroad and was rejected in crossing the state border of Ukraine.
Source:http://dpsu.gov.ua/ru/news/pogranichniki-zaderzhali-armyanku-s-chuzhim-pasportom-i-obnaruzhili-u-ukrainca-poddelnuyu-otmetku-konsulstva-ukrainy/